Homeschooling is a pretty common thing. Studying...at home. All your school...at home. No leaving in the morning, no need to change from your pajamas...
It's pretty nice. It's got it's pro's and con's but all in all it's nice.
And yet some people just ask the most dumb and annoying things. Today I am hear to share with you the most annoying things you could say to a homeschooler, and then reply with a dumb gif and reply to those statements.
Please note that I am not attacking these people. They just....don't quite understand what homeschooling is. This is not an attack at anyone in particular. These are general things that homeschoolers hear. That is all. These are all things that people have asked me or close friends. I'm not speaking for all homeschoolers here. This post is inspired by personal experience and my own opinions on it.
1. So...you're a homeschooler. How do you have friends?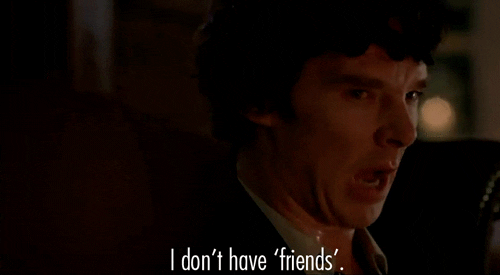 Well, you see, our species of homeschoolers like to participate in this practice of socialization.

We're not Sherlock, guys. We have friends. Okay? Okay.

But seriously. This way of schooling doesn't mean we don't leave the house. Sure we might not get out as much but it also leaves more time for clubs and other means of socializing.
2. So...you're a homeschooler. That means you don't do any work?


...No it means we prefer to create our own means of learning instead of trusting the school system to determine our futures. It's that simple.
3. So what do you wear?

...
Clothes? Sometimes pajamas?
(and yes I have been asked this)
4. So do you own anything? Aren't homeschoolers poor?


Homeschoolers aren't poor. Some people are poor. That has nothing to do with what school we go to.
So...
No.
5. Homeschoolers aren't going to be as good in college and getting jobs though, right?


...Really? We aren't doing this so we can be "dumb". Quite often it helps us learn and grasp things better, and sometimes that's because we can move more slowly through tricky subjects. We're not stupid or naive. Not all of us are sheltered away from the world.
Success is not decided by where or how you get your education. It's decided by how much effort you're willing to put into your life.
6. So. Homeschoolers are either really smart or really dumb. Which one are you?


Yes. Someone actually said this to my best friend. I'm not even going to reply to this.
Okay, yes I am.
It's just like your school. Except at home. And our parents teach us. It may sound appalling but that doesn't make us different than you.
Yes, there are abnormally smart homeschoolers and some struggling homeschoolers. But there are also abnormally smart public-schooler and struggling public-schoolers.
7. You must be /really/ religious, huh?
no but don't you see how perfect this gif is? Don't you see?

Yes, it's true that many homeschool parents chose this for religious reasons.
There are also religious schools.
Religion is a thing. Not distinctly a home-school thing.
The end.

8. So do you not know anything about the world/news/whatever-celebrity-gossip-is-going-on?

Ahem.
We do not live in a cave.
Internet still exists. We still talk to people. We still live in the world. The fact that you are asking this question goes to say you know little about the world to think homeschoolers are this dumb.
9. You must not know anything about serious problems.
Homeschooling does not make us any less human. We still struggle with stress. We still get depressed. We still wonder if we fit in, or if we'll go places.
Yes. People get sheltered more in homeschooling generally. There's a lot of homsechoolers that aren't even sheltered.
But we're still human. We still hurt. We still hear about things on the news and form opinions.
So ta da! Those are the most annoying things said to me and my homeschooling friends. I hope you found this amusing, and if you didn't.... Well okay.
Homeschooling isn't really even that complicated. It's another way of schooling. Honestly, it's nice. It's nice that my self confidence doesn't rely on a letter on a paper or what others say about me.
Also it's nice getting to wear pajamas during the day.
If any of you have other amusing things said to you, feel free to share.